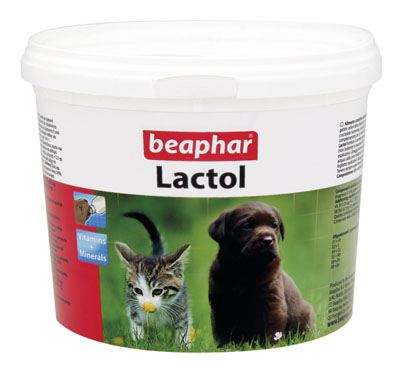 Beaphar Lactol Milk Replacement for Puppies & Kittens 250g
Price:

₹882.00

FREE

Shipping on this item
Pay On Delivery
Easy Returns
24*7 Support
100% Original Product
---
Beaphar Lactol is a complete milk replacement feed for orphaned puppies and kittens. It can also be used for weaning puppies and kittens, pregnant or lactating dogs and cats, or on sick or convalescing animals. Lactol has been produced for over 100 years, and has saved the lives of countless young animals. It is made from easily digested whey products and closely resembles natural bitch's milk. Ultra filtration concentrates the proteins, and a slow drying process during production preserves the protein molecules. Beaphar Lactol has a superior amino acid content, and provides a perfectly balanced complete feed.
Recommended dilution: add 30g (12 level scoops) to every 105ml warm water (165g should be added to a pint of water). One level scoop is approximately 2.5g Lactol powder.
Recommended daily dosage: it is impossible to give precise daily quantities due to considerable variations of age, size and breed, therefore "demand feeding" will often be your best guide. It is important to weigh young puppies on a daily basis so that you can compare their daily growth increase with the growth tables from your breeder or vet.
As a complementary feed for animals in large litters: additional dosage for animals in large litters, but still with their mother: If the youngster is completely pushed away by siblings or rejected by the mother, switch to the dosage for orphaned animals. In other cases, give Lactol milk as an additional feed to weaker youngsters.
Customer Reviews
0 Reviews
0.0 out of 5 star
Be the first to Review this product