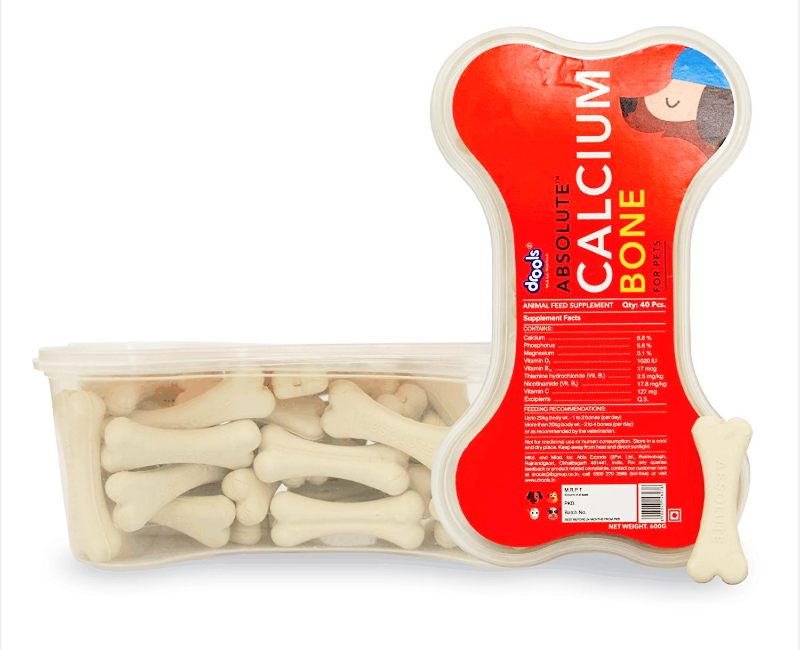 Drools Absolute Calcium Bone Jar
Price:

₹249.00

FREE

Shipping on this item
Pay On Delivery
Easy Returns
24*7 Support
100% Original Product
---
"Give your pet the power of calcium with Drools absolute calcium bone.
Calcium is very important to us as well as for our pets. It helps in making their bones healthy and teeth stronger, compulsory to boost your pet's performance.
Omega 3 and 6 fatty acids with turmeric and tea for healthy skin and coat
Supports the skin's natural barrier.
Optimum calcium and phosphorus ratio. For stronger teeth and healthy bones
Promotes joint health
Supports skin and digestive health in dogs with food sensitivity.
Drools calcium sausage is yummy treat that satisfies full dietary needs of dog.
Tasty and high digestible snack with nutritional benefits to pets.
Composition:
Calcium 8.0% , Phosphorus 6.6% , Magnesium 0.2% , Vitamin D3 1200 IU , Vitamin B12 20 mcg , Thiamine hydrochloride (Vit. B1) 3mg/kg , Nicotinamide (Vit. B3) 21 mg/kg , Vitamin C 150 mg
Feeding Instructions:
Upto 20kg body weight – 1 - 2 bones(per day).
More than 20 kg body weight – 2 – 4 bones(per day) or as recommended by the veterinarian.
Shipping Info:
Fast delivery of multiple varieties of pet food and accessories in Chennai, Bangalore, Mumbai, Delhi, Kolkata, Hyderabad, Cochin, Pune and all other major cities.
* COD options available in select cities, please check your area pin code.
* Free shipping all over India if cart value is higher than Rs.799. If cart value is lower than Rs.799, a delivery fee of Rs.75 will be levied at the time of checkout.
Customer Reviews
0 Reviews
0.0 out of 5 star
Be the first to Review this product