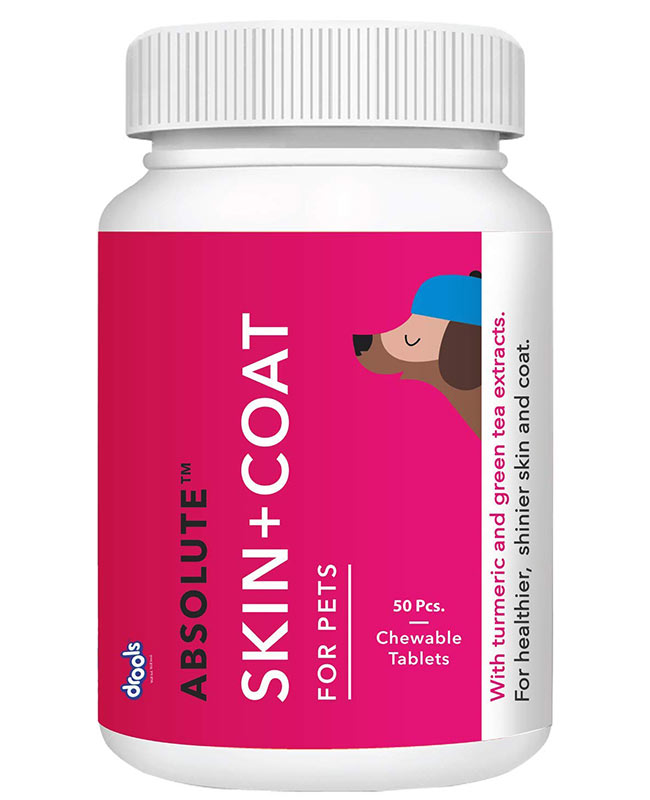 Price:

₹190.00

FREE

Shipping on this item
Pay On Delivery
Easy Returns
24*7 Support
100% Original Product
---
Return Policy Not Available
Drools Absolute Skin & Coat Dog Supplement is an assortment of both EPA-DHA that helps in improving the skin and makes the coat shinier.
An assortment of all essential components that help in maintaining the high energy level in dogs and keeps them fit and active.
A formula that meet the specific needs of Dogs to promote growth in them.
Drools Absolute Skin & Coat Dog Supplement is apt for the dogs of all breed
Composition:
Omega 3 & 6 Fatty Acids 53g
Ascorbic acid (Vitamin C) 25mg
Chelated Zinc 15mg
Eicosapentaenoic acid 11.2mg
Docosahexaenoic acid 7.5mg
Vitamin E 10 IU
Biotin 150mcg
Turmeric Extract 3000 ppm
Green Tea Extract 1500 ppm
Shipping Info:
Fast delivery of multiple varieties of pet food and accessories in Chennai, Bangalore, Mumbai, Delhi, Kolkata, Hyderabad, Cochin, Pune and all other major cities.
* COD options available in select cities, please check your area pin code.
* Free shipping all over India if cart value is higher than Rs.799. If cart value is lower than Rs.799, a delivery fee of Rs.75 will be levied at the time of checkout.
Customer Reviews
0 Reviews
0.0 out of 5 star
Be the first to Review this product