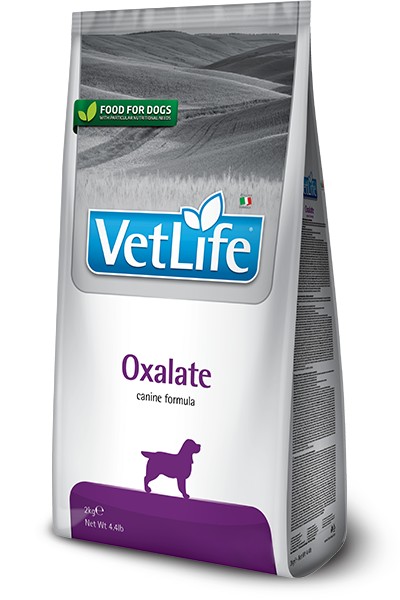 Farmina Vet Life Oxalate Dog Food
Price:

₹1,790.00

FREE

Shipping on this item
Pay On Delivery
Easy Returns
24*7 Support
100% Original Product
---
Farmina Vet Life Oxalate is a complete dietetic food for adult dogs formulated to reduce urate, oxalate and cystine calculi.
It is also indicated in the subjects suffering from renal diseases at a serious stage.
NATURAL NUTRITIONAL SOLUTION FOR THE WELLBEING OF DOGS
Farmina Vet Life Natural Diet is the new, revolutionary, veterinary range of Farmina Pet Foods, the first only natural.
Nature itself is the guiding principle of Farmina Philosophy which finds full expression in new diets exiting a long and accurate scientific research led in collaboration with the Chair of Animal Nutrition of the University of Naples Federico II.

The experience gained in the development of ideal nutritional strategies, appropriate to the physiology of dogs and cats, made possible for Farmina Vet Research to formulate the first veterinary natural diet characterized by:
Only Natural Antioxidants
Tocopherols rich extracts which allow a natural preservation of the product.
Without GMO (Genetically Modified Organisms)
European Union allows GMOs use but regulates it strictly appealing the precautionary principle. Farmina goes beyond excluding from any formula potentially GMO ingredients (such as corn) and using GMO Free Ancestral Cereals (spelt and oats).
Ingredients Rice, oats, animal fat, dehydrated whole eggs, linseed, hydrolysed animal proteins, dried beetroot pulp, fish oil, calcium carbonate, vegetable oil, sodium chloride. Protein source: dehydrated whole eggs. Urine alkalizer: potassium citrate (9g/kg). Total Vitamin D 650IU.
Guaranteed Analysis
Raw protein 9.50%; raw oils and fats 19.00%; raw fiber 1.90%; raw ashes 3.80%; calcium 0.30%; phosphorus 0.20%; sodium 0.20%; potassium 0.60%; magnesium 0.04%; chlorides 0.50%; sulphur 0.15%; hydroxyproline <0.02%; total sulfur amino acids 0.50%; Omega-3 fatty acids 0.50%; Omega-6 fatty acids 2.80%; EPA 0.10%; DHA 0.25%.
Shipping Info:
Fast delivery of multiple varieties of pet food and accessories in Chennai, Bangalore, Mumbai, Delhi, Kolkata, Hyderabad, Cochin, Pune and all other major cities.
* COD options available in select cities, please check your area pin code.
* Free shipping all over India if cart value is higher than Rs.799. If cart value is lower than Rs.799, a delivery fee of Rs.75 will be levied at the time of checkout.
Customer Reviews
0 Reviews
0.0 out of 5 star
Be the first to Review this product