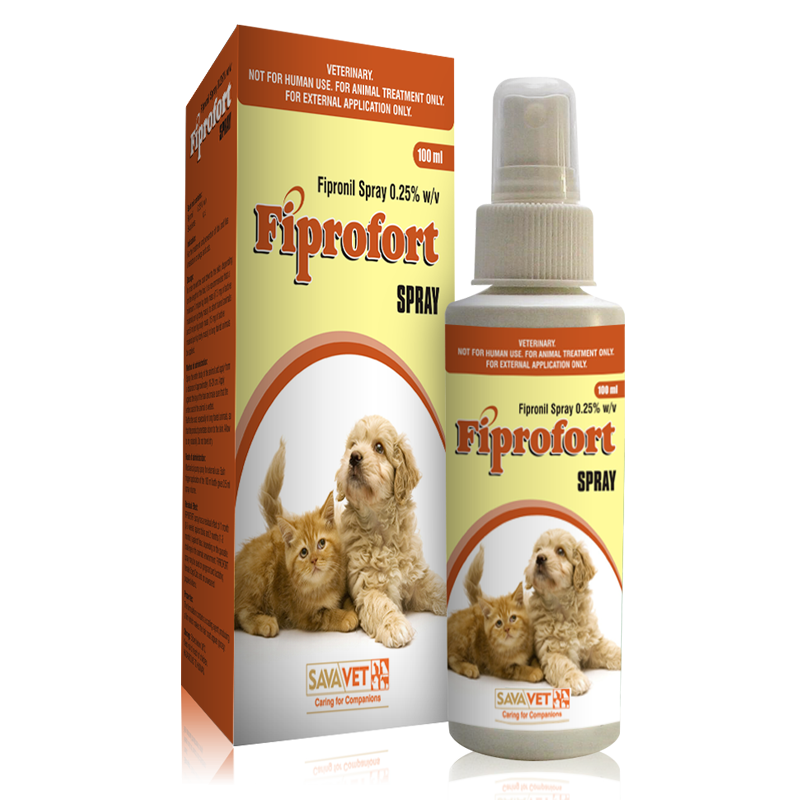 Savavet Fiprofort Spray for Flea and Tick in Dogs and Cats
Price:

₹399.00

FREE

Shipping on this item
Pay On Delivery
Easy Returns
24*7 Support
100% Original Product
---
COMPOSITION:
Each ml contains:
Fipronil 0.25% w/v
Excipients q.s.
Mechanism of action:
Fipronil is a new generation broad-spectrum ectoparasiticidal belonging to phenylpyrazole class. Fipronil disrupts the insect's central nervous system by blocking the passage of chloride ions through the GABA receptor and glutamate receptor (GluCl). Fipronil acts by binding to an allosteric site of GABA receptors. Its neurotoxicity is selective, because the configuration of GABA receptors in mammals is different from insects.
INDICATIONS:
For effective treatment and prevention of all life stages of ectoparasites i.e. tick (including ticks responsible for tick fever), flea (flea allergy dermatitis) and lice in Dogs and Cats.
DOSAGE AND ADMINISTRATION:
For 100 ml,
Hold the bottle in upright position. Ruffle the animal's coat while applying spray mist to its body.
APPLICATION:
In order to wet the coat down to the skin it is recommended that the following application rates be used:
Short-haired animals (<1.5 cm)
- A minimum of 3 ml/kg body mass = 7.5 mg of active material kg/body mass.
Long-haired animals (>1.5 cm)
- A minimum of 6 ml/kg body mass = 15 mg of active material kg/body mass.
100 ml bottle
Each trigger application delivers 0.5 ml spray volume
e.g. for dogs under 12 kg
6 pumps actions per kg
Weight 15 kg = 90 pump actions
Weight 30 kg = 180 pump actions
RESIDUAL ACTION: Ticks: 1 month (3-5 week), Fleas: 2 months (1-3 months) this will depend on the parasite challenge in the animal's environment.
Customer Reviews
0 Reviews
0.0 out of 5 star
Be the first to Review this product