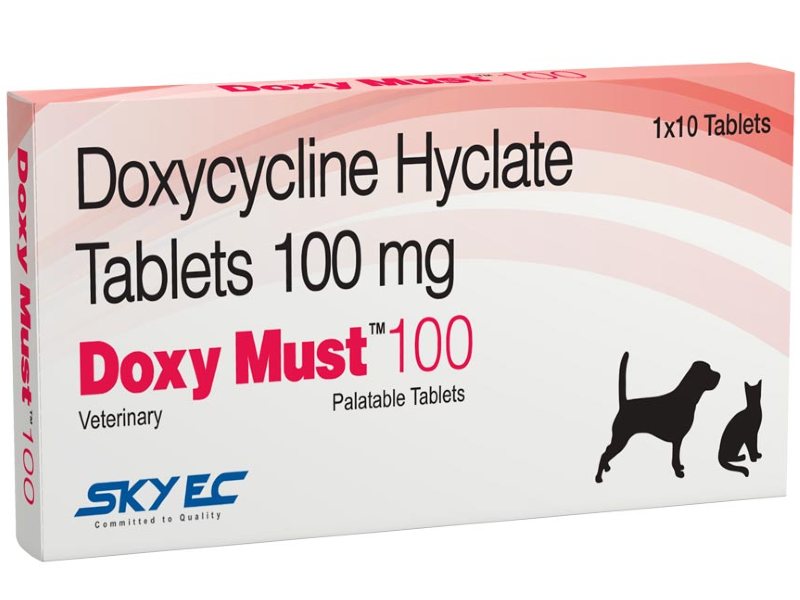 Price:

₹100.00

FREE

Shipping on this item
Pay On Delivery
Easy Returns
24*7 Support
100% Original Product
---
Return Policy Not Available
Anti- Biotic Tablets

Indications:
Tick borne rickettsial diseases (CanineMonocyticEthrlichiosis, etc)
Mixed upper respiratory tract infection (kennel cough)
Leptospirosis
Toxoplasmosis
As pre-treatment to pathogenic microfilarial infection (dirofilaria immitis) in order to eliminate the symbiotic bacteria wolbachia

Each tablet contains
Doxycycline Hyclate (100mg / 300 mg )
Dosage & Administration
E.Canis infection
5mg/kg bw every 12 hrs or 10mg/kg bw every 24 hrs , for 2-3 weeks
Other susceptible infections
5-10mg/kg bw daily for up to 5 days
DoxyMust should be administered after food.
Precautions
Do not administer in pets with dysphagia
Avoid administration with antacids & dairy based products
Do not use in pregnant bitches (last 3 weeks of pregnancy) and in puppies (first month)



Shipping Info:
Fast delivery of multiple varieties of pet food and accessories in Chennai, Bangalore, Mumbai, Delhi, Kolkata, Hyderabad, Cochin, Pune and all other major cities.
* COD options available in select cities, please check your area pin code.
* Free shipping all over India if cart value is higher than Rs.799. If cart value is lower than Rs.799, a delivery fee of Rs.75 will be levied at the time of checkout.
Customer Reviews
0 Reviews
0.0 out of 5 star
Be the first to Review this product