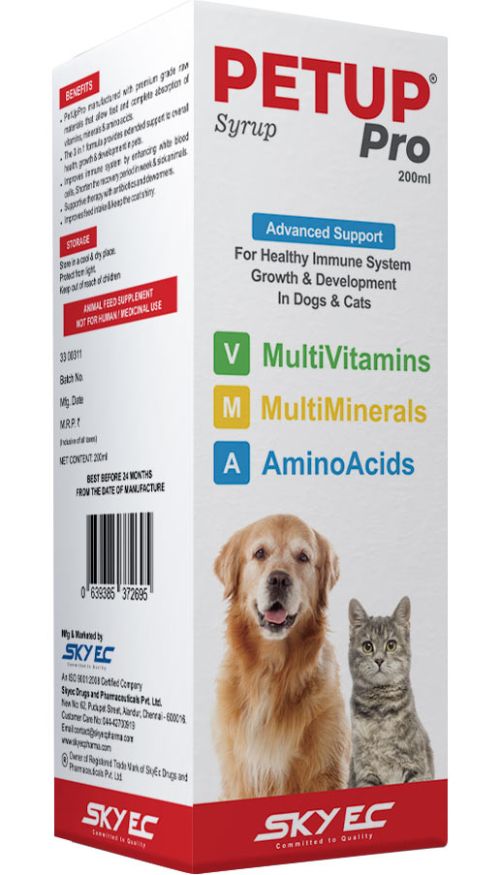 Price:

₹199.00

FREE

Shipping on this item
Pay On Delivery
Easy Returns
24*7 Support
100% Original Product
---
Advanced Support For Healthy Immune System, Growth & Development In Dogs & Cats

Composition
12 Multi Vitamins
9 Multi Minerals
9 Amino Acids
Benefits
PetUp Pro manufactured with premium grade raw materials that allow fast and complete absorption of vitamins, minerals & amino acids.
The 3 in 1 formula provides extended support to overall health, growth & development in pets.
Improves immune system, Shorten the recovery period in week & sick animals
Supportive therapy with antibiotics and dewormers.
Improves feed intake & keep the coat shiny.
Direction For Use
Pups : 1-2ml daily.
Adults : 5ml / 10kg daily.
Cats : 2.5ml twice a day.
Shipping Info:
Fast delivery of multiple varieties of pet food and accessories in Chennai, Bangalore, Mumbai, Delhi, Kolkata, Hyderabad, Cochin, Pune and all other major cities.
* COD options available in select cities, please check your area pin code.
* Free shipping all over India if cart value is higher than Rs.799. If cart value is lower than Rs.799, a delivery fee of Rs.75 will be levied at the time of checkout.
Customer Reviews
0 Reviews
0.0 out of 5 star
Be the first to Review this product