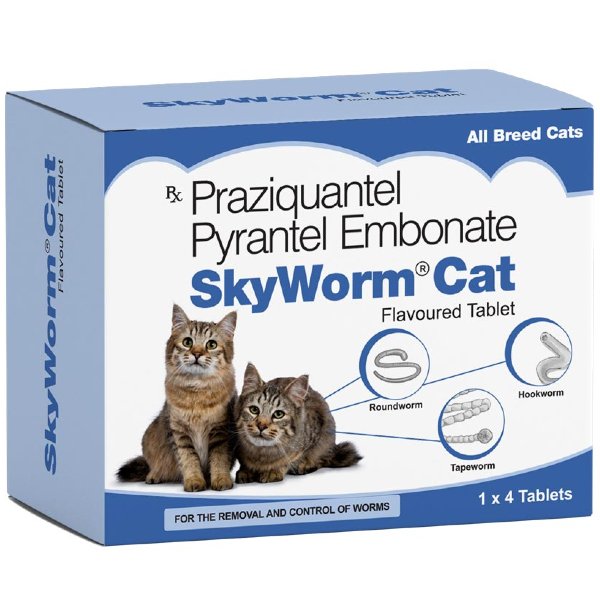 Price:

₹170.00

FREE

Shipping on this item
Pay On Delivery
Easy Returns
24*7 Support
100% Original Product
---
SkyWorm Tablets are a broad spectrum dewormer for the removal of tapeworm, hookworm, and roundworm infections in cats and kittens
SkyWorm Tablets are easy to administer by mouth or in food
Suitable for use in kittens and adult cats. Fast and effective after a single treatment.

Each tablet contains,
Praziquantel : 20 mg
Pyrantel Embonate : 230 mg
Dosage with respect to Body Weight
½ Tablet for 2 kg
1 Tablet for 2.1 kg to 4 kg
1½ Tablets for 4.1 kg to 6 kg
2 Tablets for above 6.1 kg to 8 kg

When to do Deworming,
Kittens
Treat at 4, 6, 8, 12 weeks; then 3 monthly

Cats
Every 3 months

Pregnant Cats
Prior to mating, 10 days before kittening and 2 and 4 weeks after kittening. Then every 3 months.

Shipping Info:
Fast delivery of multiple varieties of pet food and accessories in Chennai, Bangalore, Mumbai, Delhi, Kolkata, Hyderabad, Cochin, Pune and all other major cities.
* COD options available in select cities, please check your area pin code.
* Free shipping all over India if cart value is higher than Rs.799. If cart value is lower than Rs.799, a delivery fee of Rs.75 will be levied at the time of checkout.
Customer Reviews
0 Reviews
0.0 out of 5 star
Be the first to Review this product