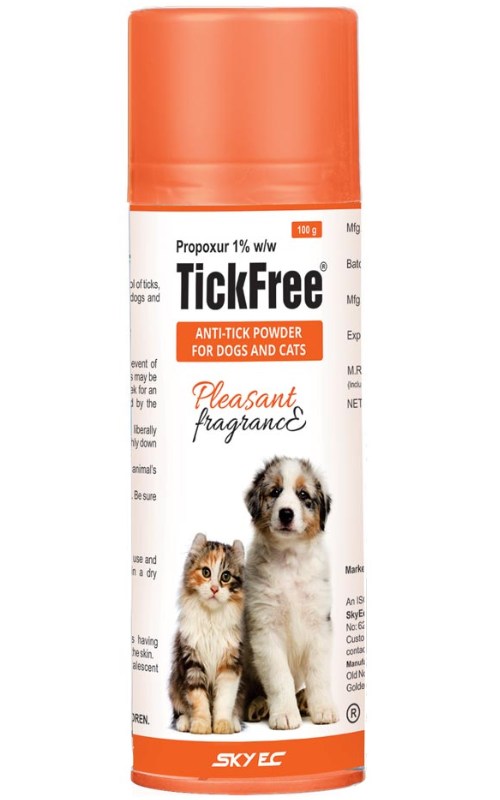 Price:

₹170.00

FREE

Shipping on this item
Pay On Delivery
Easy Returns
24*7 Support
100% Original Product
---
Return Policy Not Available
Composition
Propoxur : 1% w/w
Benefits
Control ticks, fleas and lice in dogs & cats.
Pleasant fragrance
Pharma grade raw material used to maintain the free flow of powder
Direction for Use
Apply once in a week. In the event of heavy infestation, the treatments may be repeated twice or thrice per week for an extended period or as directed by the veterinarian.
The powder should be dusted liberally over the pet and rubbed thoroughly down to the skin.
Dust the affected part of the animal's body against the direction of hair.
Begin at the head and work back. Be sure to include feet and legs.
Storage
Close the container tightly after use and protect from moisture. Store in a dry place, away from direct sunlight.
Contra Indications
Do not use in dogs and cats having extensive superficial wounds on the skin.
Do not use on sick or convalescent animals.



Shipping Info:
Fast delivery of multiple varieties of pet food and accessories in Chennai, Bangalore, Mumbai, Delhi, Kolkata, Hyderabad, Cochin, Pune and all other major cities.
* COD options available in select cities, please check your area pin code.
* Free shipping all over India if cart value is higher than Rs.799. If cart value is lower than Rs.799, a delivery fee of Rs.75 will be levied at the time of checkout.
Customer Reviews
0 Reviews
0.0 out of 5 star
Be the first to Review this product