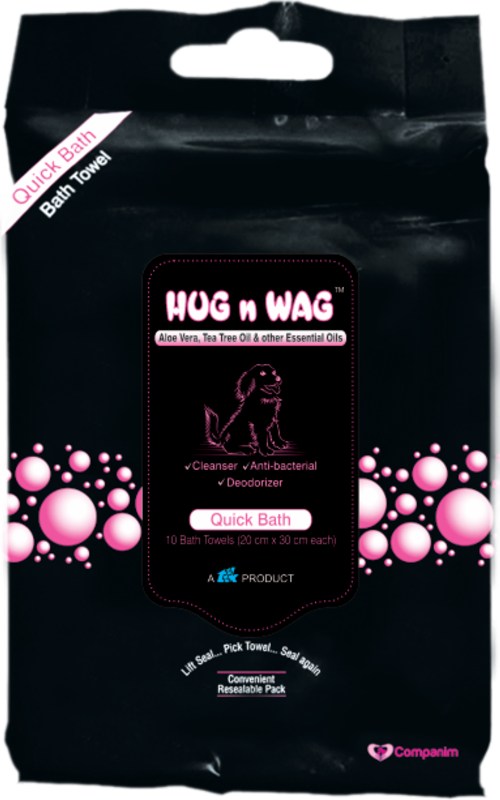 TTK Hug N Wag Quick Bath Towels
Price:

₹230.00

FREE

Shipping on this item
Pay On Delivery
Easy Returns
24*7 Support
100% Original Product
---
HUG n WAG Quick Bath is a bath towel recommended for instant cleansing of puppies and dogs.
Made with Aloe vera. Tea tree oil, Essential oil

Benefits
Instant cleaning and deodorizing with anti-bacterial effect
Large size (20 x 30 cm)
High moisture content
Warm bath option (60oC/15 sec)
Long lasting fragrance

Recommendation
Puppies from 45 days onwards
Chill weather
Sick & paralyzed pets
Post-surgery
Difficult to bath pets
Apartment dogs
Between baths
During travel & dog shows
After walks/exercise
Directions for use:
Using the bath towel, gently wipe the entire body of your pet starting from head throughout the back towards tail followed by legs and paws. The soapy solution from the towel wets the pet's body, removes dirt and imparts a fresh smell. It is non-sticky and dries soon. No bathing or rinsing is required.
For warm bath, heat individual bath towel in microwave oven at 60oC for 15 seconds and use as directed above.


Shipping Info:
Fast delivery of multiple varieties of pet food and accessories in Chennai, Bangalore, Mumbai, Delhi, Kolkata, Hyderabad, Cochin, Pune and all other major cities.
* COD options available in select cities, please check your area pin code.
* Free shipping all over India if cart value is higher than Rs.799. If cart value is lower than Rs.799, a delivery fee of Rs.75 will be levied at the time of checkout.
Customer Reviews
1 Reviews
5.0 out of 5 star