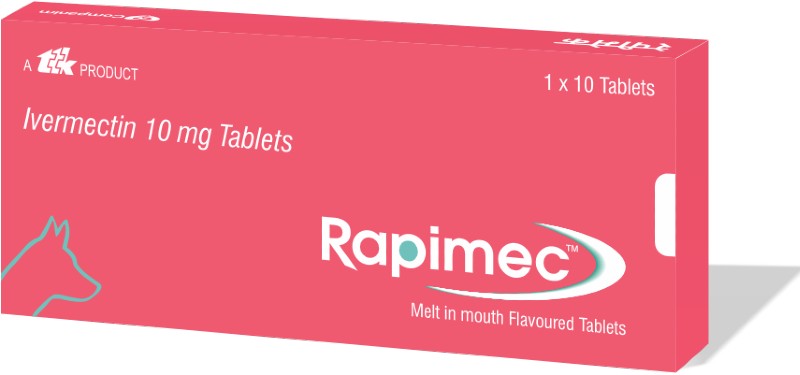 TTK Rapimec Ivermectin Melt in Mouth Flavoured Tablets
Price:

₹100.00

FREE

Shipping on this item
Pay On Delivery
Easy Returns
24*7 Support
100% Original Product
---
RAPIMEC contains Ivermectin indicated for safe and effective treatment of canine generalised demodicosis.
Each tablet contains:
Ivermectin IP 10 mg

Indications
Canine Generalised Demodicosis

Benefits
Highly effective in 85-90% Canine Generalized Demodicosis cases
Wide margin of safety
Better compliance than topical amitraz
Economical
Recommended along with topical amitraz, for better results

Dosage
0.3-0.6 mg/kg bw/day
Mild CGD - Treatment for 7-14 days
Chronic CGD - Treat until two negative skin scrapings are evident, one month apart


Shipping Info:
Fast delivery of multiple varieties of pet food and accessories in Chennai, Bangalore, Mumbai, Delhi, Kolkata, Hyderabad, Cochin, Pune and all other major cities.
* COD options available in select cities, please check your area pin code.
* Free shipping all over India if cart value is higher than Rs.799. If cart value is lower than Rs.799, a delivery fee of Rs.75 will be levied at the time of checkout.
Customer Reviews
0 Reviews
0.0 out of 5 star
Be the first to Review this product