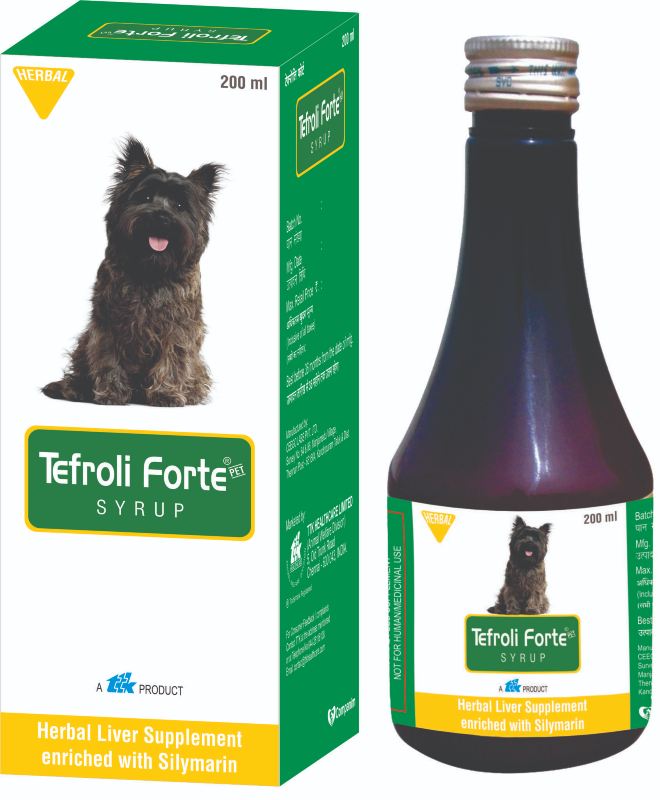 TTK Tefroli Forte Syrup Herbal Liver Supplement for Dogs and Cats
Price:

₹105.00

FREE

Shipping on this item
Pay On Delivery
Easy Returns
24*7 Support
100% Original Product
---
TEFROLI FORTE is an herbal liver syrup containing highly concentrated herbal extracts along with Silymarin which helps to rejuvenate liver in a natural way.
Composition
Each 5 ml contains:
Tephrosia purpurea: 400 mg
Eclipta alba: 200 mg
Phyllanthus niruri: 200 mg
Andrographis paniculata: 200 mg
Lawsonia alba: 60 mg
Solanum nigrum: 40 mg
Picrohiza kurroa: 10 mg
Silymarin

Benefits
Hepatoprotective & hepatoregenerative
Cholagogue & appetite stimulant
Improves liver function
Anti-stress & immunostimulant
Speedy recovery from disease conditions

Recommendation
Liver dysfunction
Anorexia
Stress conditions
Post-vaccination


Dosage

Puppies / Cats: 2.5 ml twice daily
Adult dogs: 5 ml twice daily
Or as directed by Veterinarian
Allow pet to take directly or mix with food.



Shipping Info:
Fast delivery of multiple varieties of pet food and accessories in Chennai, Bangalore, Mumbai, Delhi, Kolkata, Hyderabad, Cochin, Pune and all other major cities.
* COD options available in select cities, please check your area pin code.
* Free shipping all over India if cart value is higher than Rs.799. If cart value is lower than Rs.799, a delivery fee of Rs.75 will be levied at the time of checkout.
Customer Reviews
0 Reviews
0.0 out of 5 star
Be the first to Review this product