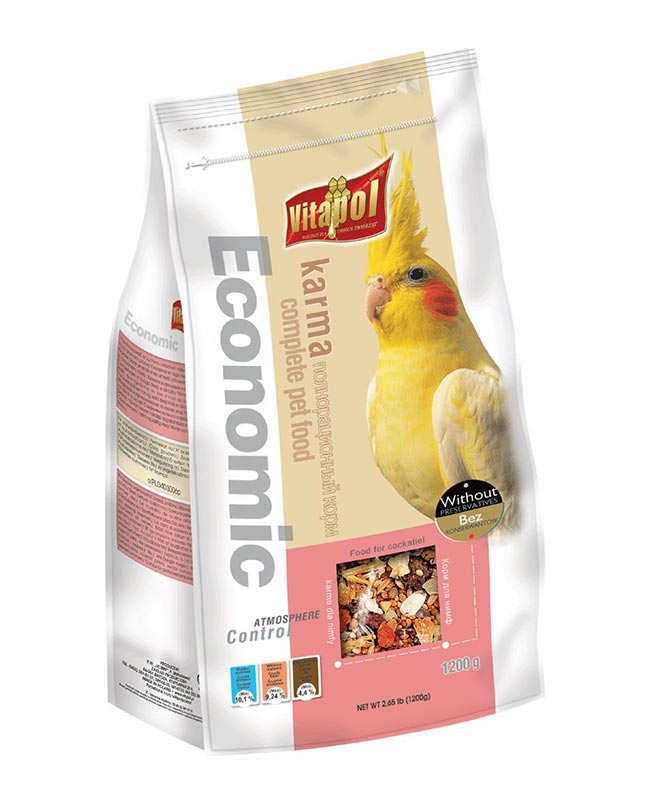 Vitapol Economic Cockatiel Bird Food
Price:

₹499.00

FREE

Shipping on this item
Pay On Delivery
Easy Returns
24*7 Support
100% Original Product
---
Developed with a special blend of three different millets, Vitapols' Economic Food for Cockatiel is a valuable source of fibre for your cockatiel. With specially chosen ingredients to meet the nutritional demands of your pet friend, each pelleted grain forms a beak full of indulgence. Packaged in a protective atmosphere, this delicious blend is sure to be a favourite of your fine feathered friend. After all, a healthy cockatiel is a happy cockatiel!
Main Features:
Contains highest quality ingredients, chosen so as to meet the highest nutritional requirements of your pet
Enriched with three types of small grained millets, easily digestible wheat flakes.
Valuable source of fiber, positive impact on digestive system
Enriched grain pellets contain powdered anise
Ingredients: Yellow millet, white millet, red millet, canary seed, wheat flakes, safflower seed, white sorghum, red sorghum, flax, oats, roasted carrots, striped sunflower seeds, niger seeds, raisins, wheat flour, corn flour, alfalfa meal, powdered anise, carotene.
Shipping Info:
Fast delivery of multiple varieties of pet food and accessories in Chennai, Bangalore, Mumbai, Delhi, Kolkata, Hyderabad, Cochin, Pune and all other major cities.
* COD options available in select cities, please check your area pin code.
* Free shipping all over India if cart value is higher than Rs.799. If cart value is lower than Rs.799, a delivery fee of Rs.75 will be levied at the time of checkout.
Customer Reviews
0 Reviews
0.0 out of 5 star
Be the first to Review this product