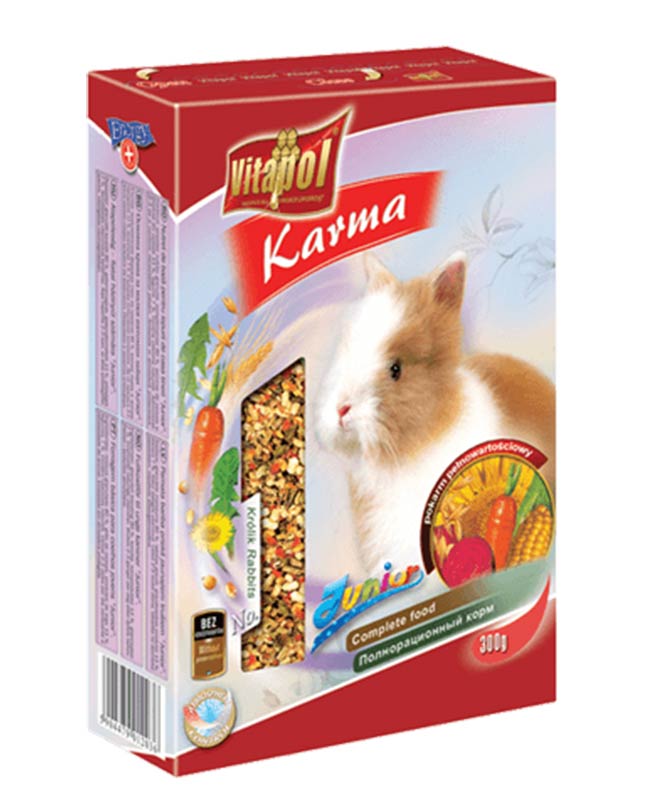 Vitapol Karma Junior Rabbit Food
Price:

₹240.00

FREE

Shipping on this item
Pay On Delivery
Easy Returns
24*7 Support
100% Original Product
---
A rich mix of a fully balanced pellet with fruits, vegetables and carrot, Vitapol Junior Food for Young Rabbit supports the growth of a baby rabbit of approximately 8-12 months.
It not only helps your pet form good eating habits, but also helps in avoiding a number of diet related issues in adulthood.
This product has been created taking into account the different nutritional needs of your rabbits' growing body and the extra sensitivity of its' developing digestive system.
After all, a healthy bunny is a happy bunny!
Main Features:
Fully balanced pellets with rich mix, prepares for switching to adult food
Contain extrudates with added vitamins
Enriched with beetroot & carrot – source of carotenes and antioxidants
Addition of endive root, natural source of Inulin, polisaccharyde that lowers sugar level in blood
Ingredients: Corn & cereal crisps, cereal products, flax meal, dehydrated carrot, sunflower extracted meal, puffed wheat, carrot, dried yeast, chalk rock
Shipping Info:
Fast delivery of multiple varieties of pet food and accessories in Chennai, Bangalore, Mumbai, Delhi, Kolkata, Hyderabad, Cochin, Pune and all other major cities.
* COD options available in select cities, please check your area pin code.
* Free shipping all over India if cart value is higher than Rs.799. If cart value is lower than Rs.799, a delivery fee of Rs.75 will be levied at the time of checkout.
Customer Reviews
0 Reviews
0.0 out of 5 star
Be the first to Review this product