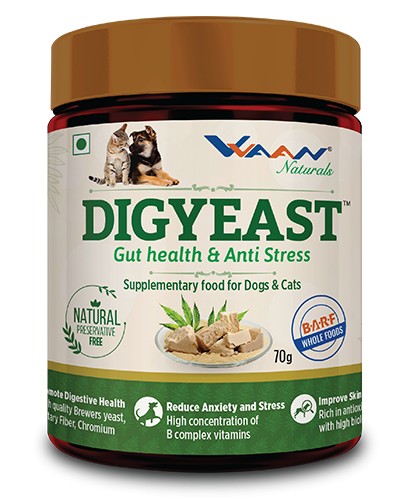 Vvaan Digyeast Gut Health and Anti Stress Supplementary Food for Dogs and Cats
Price:

₹353.00

FREE

Shipping on this item
Pay On Delivery
Easy Returns
24*7 Support
100% Original Product
---
100% Pure Natural: Dried Brewer's Yeast powder
Composition:
High quality Brewer's yeast, Dietary fibre, Chromium - Promote Digestive Health
High concentration of B complex vitamins - Reduce Anxiety and Stress
Rich in anti oxidants and proteins - Improve Skin & Coat condition
Indications:
Nutritional support for digestive tract disorders
Ideal for puppies and kitten during growing period and periods of shedding

Dosage: Per 10kg body weight 1/2 teaspoon
Shipping Info:
Fast delivery of multiple varieties of pet food and accessories in Chennai, Bangalore, Mumbai, Delhi, Kolkata, Hyderabad, Cochin, Pune and all other major cities.
* COD options available in select cities, please check your area pin code.
* Free shipping all over India if cart value is higher than Rs.799. If cart value is lower than Rs.799, a delivery fee of Rs.75 will be levied at the time of checkout.
Customer Reviews
0 Reviews
0.0 out of 5 star
Be the first to Review this product