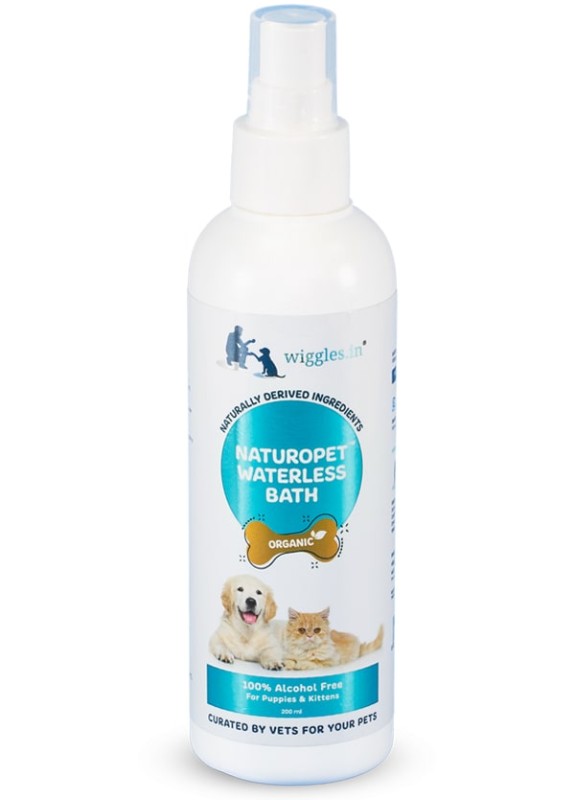 Wiggles Naturopet Organic Waterless Bath
Price:

₹499.00

FREE

Shipping on this item
Pay On Delivery
Easy Returns
24*7 Support
100% Original Product
---
A quick waterless solution to keep your pet clean in between bathings.
This easy-to-use body cleanser spray cleans your pet's body & fur and keeps it spick and span, especially after a fun play session or a walk
Gently removes dead skin cells & body odour without upsetting the pet's skin's pH balance and prevents skin infections too
Keeps him looking fresh as it acts as a natural shield against dirt
Use when your pet gets dirty, for adult pets use twice a week or use daily incase of skin infection.
Spray over pet's body, let it soak in for a few minutes, massage slightly and then comb from head to tail
Ingredients: SNP(Silver Nano Particles), Eco-friendly Natural Enzymes
Shipping Info:
Fast delivery of multiple varieties of pet food and accessories in Chennai, Bangalore, Mumbai, Delhi, Kolkata, Hyderabad, Cochin, Pune and all other major cities.
* COD options available in select cities, please check your area pin code.
* Free shipping all over India if cart value is higher than Rs.799. If cart value is lower than Rs.799, a delivery fee of Rs.75 will be levied at the time of checkout.
Customer Reviews
0 Reviews
0.0 out of 5 star
Be the first to Review this product